Busy, Busy, Busy
Posted on September 30, 2008 @ 2:33 pm
About a year ago, my life used to be so relaxed.  But when I started blogging, I became a multitasker.  Now I have to divide my time with computer, email, cellphone, my store, work and family demands.  Everyday I've been juggling all these tasks and no, I'm not complaining.  I am actually loving it.  It's nice that I'm thinking again.  It's like being back to school… doing research, writing essays, learning new things, etc.  Sometimes I have so many thoughts that I can't even keep up.  But I'm getting by.  And what I love most about it?  Gaining a lot of new friends and being able to travel around the world, and yes, earning a little extra for the family.  🙂
576 total views, no views today
Join Us At Slogbite
Posted on September 29, 2008 @ 2:56 pm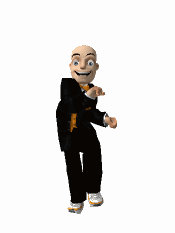 Do you ever wonder who is that dancing man? Introducing…Slogbite!
From the guy who brought you the Big Bang Explosion meme, now comes Slogbite, an awesome new directory site. Thanks Anna for inviting me! The site is still under construction but is now accepting participants in preparation for its official launch. Join now!

Join SlogBite:
Join SlogBite:
Searching for Sites:
Choose a category that interests you. Then choose a site to visit by clicking on their "most representative" post

("See the Best before you see the Rest".)

This way you start out with their best post that site has to offer in this category; a great way to browse sites; or

Type in a keyword that may be found in a site name, the representative post or the site description and "enter."

Both options are directly under the SlogBite banner.
690 total views, no views today
Winning An Argument
Posted on September 25, 2008 @ 2:52 pm
For most married couples, arguments will always be a part of their lives. My husband and I were not spared from this. When we were newly married, not a single would pass without having any argument. But whether it was petty or a serious one, what's important is you kiss and make up at the end of the day.
The best way to win a fight is merely to give each other time to calm down before you talk about it.  Learning to forgive and compromise is a vital key.  Through the years, we've learned that it's useless to argue if both of you are angry.  You tend to say things in the heat of the moment that you might regret in the end.  In the height of anger, it is hard to compromise or even apologize for your mistakes.  It's always better to start talking when both of you are calmer and more willing to hear out what the other has to say.
One more thing I learned, never threaten your partner to breakup unless you seriously mean it and you are ready to leave.  I used to threathen my husband before but of course, I really didn't mean it.  If your partner hears it every time, you might lose his respect and won't believe you the next time he hears it.  Marriage is a never ending process, it needs constant work and more importantly, teamwork.
742 total views, no views today
Let Them Fall
Posted on September 21, 2008 @ 2:34 pm
One of the best parenting advice I have ever received when my kids were still very young is
"You can hold their hands all you want, but they do not grow until you let them fall down a bit."
As a mom, that is very hard to do and it pains me everytime I see them get hurt.  If only I can take away the pain from them, I would.  When they get sick I would wish that I'd be the one to get sick and not them.  But children must learn, they must see, touch, taste, talk, laugh,shout, cry, try-fail-try again, and spill a little milk in order to grow.  All these will give them a strong foundation.  My kids are older now but this piece of advice stiull stays as a guideline because now, they are more vulnerable to grown-up pains."
650 total views, no views today
Tattoo Alert
Posted on September 17, 2008 @ 2:31 pm
Do your kids love applying temporary tattoos on their skin?  I am talking about the "black tattoos"  that usually come free when you buy candies and those ones that are painted on souvenir shops, carnivals, resorts, malls and fairs.  Those are not real henna and these are created by adding a chemical called PPD (paraphenylenediamine) which makes the henna dry faster.  PPD is FDA approved but only for hair dye use.  Real henna is reddish brown and studies show that children who applied the "black tattoos", who have a reaction to PPD will probably have a lifelong allergy to the chemical, which means they may never be able to color their hair.
635 total views, no views today
An Award from Gina
Posted on September 15, 2008 @ 1:50 am
Gina over at The Clan McLeod has bestowed upon me the Brillante Weblog Premio award.  Thank you so much Gina, I truly appreciate it.

How sweet!
Here's how it works:
1. Put the logo on your blog.
2. Add a link to the person who awarded you.
3. Nominate at least five other blogs.
4. Add links to those blogs on your blog.
5. Leave a message for your nominee on their blog.
689 total views, no views today
Simple Living
Posted on September 12, 2008 @ 2:43 am
When life was still easy, my family is always out during weekends.  Saturdays are spent with my inlaws and during Sundays we dine out and go to the mall after hearing mass.  The kids might not have get everything they want but they're living comfortably.
Life is much different now with the constant inflation, add to that the loss of our apartment monthly rental income.  The apartment is still there but the income goes to the bank.  We are paying for a debt we did not even make, it's just so unfair that we have to suffer.  But, oh well, life is sometimes like that and this post is really not about the apartment.
I am always running on a tight budget, but I am still blessed because I have my store and I have my blogging income to help with some of the expenses.
Being brought up to live simply is such an advantage.  Me and my siblings were well provided for, anything we needed were given to us.  But anything we want more than that we had to work for it.  I am thankful that I was brought up that way and I am lucky to have a husband who was brought up the same way as I am.  This value is what we are teaching our children.  We are thankful that in our present situation, the kids have been very understanding.  But there are times that I feel guilty because we are not able to give them what they need immediately.
It was my daughter's birthday last week and instead of dining out, I just cooked a special dinner.  Before I went to the grocery I asked my son, "Is there something you need?"  His reply was, "No mama, just get everything for ate, I'm fine."  I was so touched, before he would casually reply "Ok, please buy me this… and I need a new…."  Things that he doesn't really need but he saw in ad that he'd like to try.
Living simply is really not easy but if we learn to live within our means and be content, then our lives would be less complicated.  Oh and more thing that I learned, never under estimate your children's power to understand even at a tender age.  If you carefully explain to them the situation, it'll be easier for them to adjust.
Now, our Sundays are spent at home.  Lounging with hubby and the kids after a homemade dinner watching tv or dvd is one of the activities we enjoy most.  We feel a lot closer and I can focus more on them.
423 total views, no views today
The Brainy Blog
Posted on September 10, 2008 @ 8:08 pm
I got an award from A Commuter's Life! Thank you very much Anna and I am so honored.

From Mommy Brain Reports

Mommy Brain Reports is on the lookout for some Brainy Sites! Do you know of any?
Perhaps they have some really interesting ideas, super cool content, or they have some incredible posts that make you really think… Maybe they are your inspiration, or they have helped you out in your quest to be an awesome blogger yourself. Are they someone you can turn to at a moment's notice for help or advice? Maybe they're just someone who has encouraged you to be.. well.. You!
In any case, you have to know someone who you would deem a Brainy Blogger! You should let them know how you feel!!!
THANK THEM FOR BEING BRAINY!

1. Think of at least 5 bloggers that you believe to be "Brainy Bloggers"

2. Post it on your blog for all to see! Let them know you've awarded them by email, twitter, etc or via a comment on their blog!

3. Share some linky love and link back to both the person who awarded you and back to http://www.mommybrainreports.com

4. Come back to the Brainy Blog Headquarters to sign our Mr. Linky and then pass it on!
5.Grab the code from HQ – use it in your post, and/or add it to your sidebar!
Don't forget to link up the person who nominated you for the Brainy Blogger Award!
1,515 total views, no views today
Little Things That Matter
Posted on September 5, 2008 @ 4:09 am
Do you keep things and special gifts and use them only on special occasions?  I used to.  When someone gives me a bottle of my favorite perfume, I'd keep it and use it only on "special" days.  I would always tell myself, Why should i?  Today's just an ordinary day.
It was only when we visited a friend some years ago that I realized this.  She has a collection of beautiful china wares neatly displayed in a cabinet.  One of the sets have gold and platinum rims.  I didn't ask but I know they were expensive.  When dinner was served, she took out one of the sets to be used.  Of course it was nice dining on a fine china but something else was going on in my mind.  Friends are special, that's true but it struck me that I am exactly like her.  Using special things only on special occasions.  My family of course, are the most special people in my life, so if my friends deserve to use the good china, my family deserves more.  I'm not talking about buying expensive china wares for us to use everyday.  What I'm saying is that I don't have to keep things for other people or use things only on special days.
I don't think we have to wait for a special occasion to use beautiful things or a perfume that nice.  It would be great to think every morning upon waking up that today is a special day.  The Filipinos have a saying "Aanhin pa ang damo, kung patay na ang kabayo?" [ What would you do with the grass if the horse is already dead?]  I'm not sure if I translated it well but would you wait until it's too late?
827 total views, 0 views today
The Royal Banana
Posted on September 2, 2008 @ 2:08 am
Wow! Awards keep on coming and I'm loving it.  I've been awarded by my beautiful friend Tina over at Mummy Diaries.  She's been very generous with awarding her friends.  Thanks girl, I love it!
I'm sharing this with Adie, Hailey and Nona.
787 total views, no views today